Jump to:
Video Guides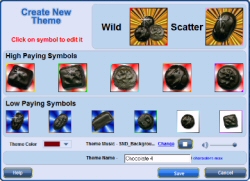 The Chocolate Sweets Mix 4 MySlot design theme is a mix of 6 different Chocolate Sweets MySlot themes and a nice demonstration of how these free MySlot themes can be combined to create nice slot machine designs.
All of the Chocolate Sweets packs are available for free download via the
MySlot section
here at the Secret Slots Club.
This
slot machine
design theme has 14 Chocolate Sweets pictures. The two special symbols are from the Golden Sparkle pack and really stand out when the slot machine is played.
The top paying slot machine symbols were selected from the Red Sparkle and Red Chocolate Sweets MySlot themes with the "Sparkly" symbols as the highest paying symbols.
The Low paying symbols start with Blue Sparkling symbols for the best or the worst, continue with Blue background Chocolate Sweets symbols and end with plain Chocolate Sweets symbols that have a white background.
You can mix and match your very own slot machine as you want with the images from our website.
MySlot Video Guides
MySlot - Chocolate Sweets 4 Theme Creation Guide - Yahoo Video


The Chocolate Sweets 4 MySlot theme is a combination of chocolate images from several of the image sets tyou can download from our website.
The special symbols, - wild and scatter are from the "Golden Background - Sparkle" chocolate sweets series.
The high paying symbols are selected from the "Red-White Background" image series, - the highest paying ones with a Sparkle.
The low payout symbols are a mix from the normal Chocolate Sweets images and the "Blue-White" background images.
Download free MySlot theme images in our
free MySlot Themes
section