Scatter Slot Machine Symbols
Slot machine scatter symbols are both annoying and amazing at the same time.
The great thing about them is, that they generate slot machine wins very often because they don't need to appear on a payline in order to trigger a win. The annoying thing about them is that they often seam to block the paylines when you were "close" to complete a high payout combination.
Most slot machines with scatter symbols have a payout rule that grants a scatter bonus when 2 or more scatter symbols appear anywhere on the game reels.
The scatter bonus prizes are often calculated based on the total slot machine wager.
Example:
2 x Scatter symbols anywhere on the slot machine = 200% of your wager
3 x Scatter symbols anywhere on thes lot machine = 500% of your wager
Example: Slot machine with scatter win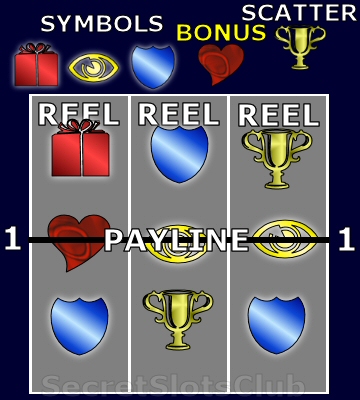 This image shows a basic slot machine with three reels, 1 payline and 3 normal symbols, a bonus symbol and a scatter symbol.
The slot machine has two scatter symbols and triggers a win.
The two scatter symbols do not need to appear on the payline in order to trigger the win !
Related pages:
What is a slot machine feature
Slot Machine Symbols
- Normal
- Bonus
You are here:
- Scatter
- Wild
- Slot Machine Bonus Features
- Free Spin
- Pick a Prize
- Multi-bonus
Basic Slot Machine Features
- Coins
- Multiplier
- Payline
- Reel