Wild Slot Machine Symbols
The Slot Machine "Wild" symbol is a special joker symbol that can substitute for normal payline symbols on the slot machine reels. The wild slot machine symbol greatly increase your chance of winning because it makes it easier to complete payline combinations.
As a thumb rule, slot machine wild symbols only substitute for normal slot machine symbols.
This means that it won't make it easier for you to get scatter bonuses or trigger bonus features.
Some slot machines have more than one wild symbol, wild symbols that double or tripple your wins when they substitute and wild symbols that expand over an entire game reel when they appear.
Example: Slot machine with wild win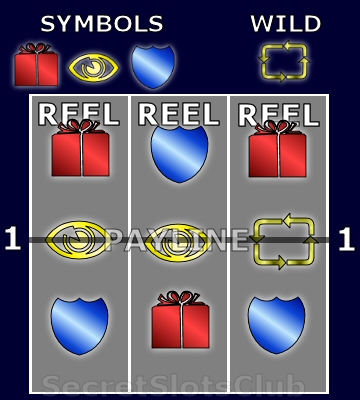 This image shows a basic slot machine with three reels, 1 payline and 3 normal symbols and a wild symbol.
This spin results in a win because the wild symbol on the theird reel substitutes for any normal symbol.
The combination of two eye symbols and a wild symbol pays out as if three eye symbols appeard.
Related pages:
What is a slot machine feature
Slot Machine Symbols
- Normal
- Bonus
- Scatter
You are here:
- Wild
- Slot Machine Bonus Features
- Free Spin
- Pick a Prize
- Multi-bonus
Basic Slot Machine Features
- Coins
- Multiplier
- Payline
- Reel