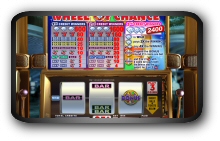 Wheel of Chance is a classic one arm bandit styled slotmachine with a fixed coin size, a
$2,400 top prize
and a
wheel of fortune bonus feature
.
The Wheel of Chance slot is
easy to play
and great for new casino players. The simple design and payout structure make it easy for players to understand what they can win, - and how.
The
slotmachine
has a customizeable coin denomination that range
from $0.10 to $10.00
and a paytable that support one, two or three coin wagers.
This means that the slotmachine can spin for as little as $0.10 and up to $30.00 with prizes that scale based on the players bet.
The Wheel of Wealth slotmachine should always be played with a 3 coin wager. The reason for this is that the Wheel of Fortune bonus feature that can result in huge prizes is available during 3 coin spins only.
Wheel of Chance is one of the casino games that any player can jump into with no previous gambling knowledge. The slot has three reels with symbols that spin each time the game is played and a single payline in the middle of the reels.
Players are paid out prizes when the slotmachine symbols appear on the payline as shown in the paytable that is visible at all times.
Wheel of Chance Multi-pay symbols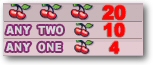 Wheel of Chance has multi-paying symbols such as the ones many are familiar with from classic one arm bandits.
Multi-paying symbols are symbols that result in a prize if one, two or three appear on the paytable.

With Wheel of Chance, the multi-pay symbol is a double cherry symbol that offer low but frequent prizes.
The multi-pay cherry symbols is available for 1 coins wagers with one paytable and 2&3 coin wagers with another paytable.
With 2 or 3 coins wagered, a single cherry symbol results in a 4 coin prize, two cherry symbols 10 coins and last, 20 coins for three cherry symbols. .
Wheel of Chance Wild symbols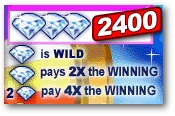 Wheel of Chance is a really nice slotmachine for new casino players that prefer frequent low-range wins with a small chance to land some larger prizes. The frequent wins are ensured by the Cherry and Wild Diamond symbols that both pay out with a single symbol anywhere on the paytable..
The Wild Diamond symbol substitute for all of the non bonus symbols on the payline and increase the prizes that are paid out when it is part of a winning combination.
Any single Cherry or Diamond symbol result in prizes, prizes that increase if the two appear together. A single Wild Diamond symbol result in twice the payout of a single Cherry prize, - 8 coins with a 2 or 3 coin bet.
A spin with two wild Diamond symbols result in prizes that are multiplied by 4, thats 40 coins with two wild Diamond symbols alone on the payline.
The slotmachine Jackpot is won when three wild Diamond symbols appear on the slot machine payline. This combination result in a 800 coin prize for 1 coin wagers, 1600 coins for 2 coin wagers and
2,400 coins for 3 coin wager
s.
The Jackpot prize that is paid out with three Diamond symbols is the only prize that scale all the way to the three coin wager. The remaining prizes are paid out equal for 2 and 3 coin wagers.
Wheel of Chance Bonus Feature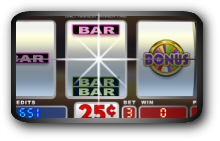 Wheel of Chance has a wheel of fortune bonus game that can be won with any 3 coin spin on the slot machine.
The 3rd reel has a bonus symbol on it that start the wheel of fortune feature when it appears on the payline.
When the feature is won players can enjoy one of the best wheel of fortune bonus features that are available at online casinos.
The wheel of fortune is designed with 24 prize fields that are linked in groups of 4 fields with cash values in the same range.
When the wheel of fortune stops on a prize field, the amount shown on the prize field is won. The field and the three linked fields are then replaced with "BUST" fields on the wheel of fortune.
Players can chose after each winning spin if they want to spin the wheel of fortune again, - and risk busting, or end the wheel of fortune game and collect the current win amount.
Each winning spin result in more wins, and even more "BUST" fields on the wheel of fortune.
Read more about the 3 Reel Wheel of Chance bonus game
More Wheel of Fortune slotmachines
Wheel of Chance BAR Payouts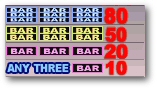 Wheel of Chance is designed to be extremely easy for new players to play.
The game has three classic styled BAR symbols that can be combined or used alone for decent slotmachine payouts.
The lowest BAR payout is won when any combination of the three BAR symbols appear on the payline. An example of such a payout would be with TWO BAR symbols and a BAR BAR symbols on the payline.
The BAR paytable is easy to understand and is often where players will find most of their wins.
The most impressive BAR payout you can win is €240.00.
This prize is paid out with two wild logo symbols and a single BAR BAR BAR symbols.