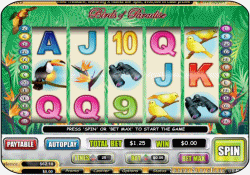 Birds of Paradise
is a USA friendly free spin slotmachine with a jackpot of 10,000.00 and a base-game that is pepped by wild substituting symbols and scatters.
The game has a a calm and welcomming design with slotmachine symbols such as the most popular slotmachine bird, - the Tukan.
Birds of Paradise has an auto-play feature that can be setup with custom stop conditions making it possible for players to relax, and enjoy the excitement of the game spins and payouts without having to worry too much about the paylines and symbol positions.
Birds of Paradise is setup with 10 different payline symbols with base payouts that range from 5 coins to 10,000 coins.
The slot has 6 pokermachine symbols; #9, #10, J, Q, K and A split into three different payout lists so that A & K have the same payouts, Q & J have the same payouts and lastly, #10 & #9 have the same payouts.
It is imporant to note that even though two symbols share the same payouts, they do not substitute for each other.
You still need identical symbols on the payline from left to right (or Wild symbols) in order to win the prizes shown.
Birds of Paradise Paytable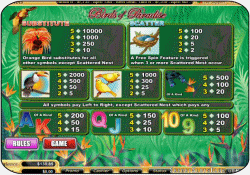 The Birds of Paradise slot has scatter symbols (eggs in a nest) that offer players a different method of payouts the the other symbols on the game reels.
The Scattered Nest symbols result in payouts each time two or more appear anywhere on the slotmachine after a spin.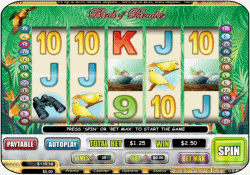 The symbols do not need to appear on a single payline starting from the leftmost reel in order to result in prizes!
The scattered nest symbols can appear on each of the five game reels and offer a paytable that scale with the amount of symbols that appear.
If you look at the slotmachine paytable above, you may notice that the amounts shown with the scattered nest symbol are relatively low.
This does not mean that the symbols result in low prizes, because unlike the other symbols, the amounts shown is a multiplier and not a coin amount.
This means that the scatter prizes are an amount from the paytable multiplied by the total staked bet.
A single coin bet on each of the 25 paylines will result in a 50 coin prize with two scatter symbols and 2,500 coins with five scatter symbols.
Birds of Paradise Free Spin Feature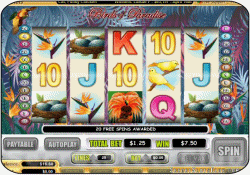 The scatter nest symbols can do much more than simply result in scatter prizes, in fact, the scatter symbols hold the key to the free spin bonus feature where players enjoy spins at no cost and with doubled prizes.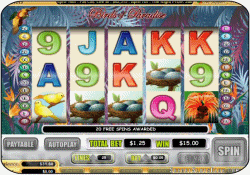 The free spin bonus feature is triggered each time three or more scattered nest symbols appear on the game reels.
The free spin bonus feature is won in addition to the normal payline prizes and scatter bonus prizes and is played with the same amount of active paylines and the same coin denomination as the spin that triggered the bonus.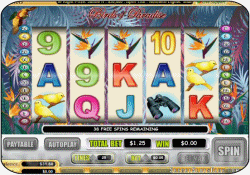 Players win a total of 20 free spins with all prizes doubled on the slotmachine when the feature is triggered, this means that the slotmachine jackpot increase to 20,000 and that the top scatter prize will increase to 200 times the total slotmachine bet.
One of the most impressive things about the Birds of Paradise free spin feature is the re-trigger.
A re-trigger basically means that the feature is won again, during the free spins. Each time this happens players win 20 additional free spins with all prizes doubled. The payout potential with a feature such as this one is really high, the feature can continue for a very long time and the spins cost absolutely nothing for the player.
The screenshot here show one of several free spins that i had with the Birds In Paradise slotmachine. This spin was right after a re-trigger in a newly started free spin bonus round and show
38 free spins remaining
.

What others say about the Birds of Paradise Slot Machine:
(Send your comment)

I have been playing at
Superslots
for many years and have only had luck with this game a few times.
The game has the design going for it as the main thing and the good chance to win many free games.
The best i ever did was five Tucans during a free game worth 2000 coins but that also made up for many of the times i played with little luck
Greg F. - Pine Bluff, Arkansas USA

I like this slot machine alot, i get many spins with 4 and 5 letters that pay pretty well.
I never play high stake so a game like this with many free rounds with low prizes is a much better gamble for me than the games with low chances for really high prizes

Dave B. - Layton, Utah USA

I play on this slot machine often because it is very relaxing and fun.
I normally play with autopilot so the game stops when i win something big or the free games are ready, - i love looking at the reels spin in the bonus and heard to sounds when the prizes land.
Patricia P. - Bloomington, Indiana USA

My friends say that it is a strange way to play, but i play this game with 9 lines active and bet more per line that i would if i had all of them running.
This way i dont win as often, but when i do win, especially if it is with free games i can head to the cashier after!
Leslie N. - Lorain, Ohio USA

For the Ultimate Bonus, i always play bet max with all 25 lines.
I start with a low bet and if i dont see free games i set the bet up after 75 games.
You can win alot with the free games because all is double in payouts, and if you work the bet size up slowly you can have really good wins.
Lois G. - Taylorsville , Utah USA

I have played this birds slot machine many times but have never tried the free spins feature.
I play with really small bets because i dont want to deposit so much at a time. I useually win a good spin with wilds before i move on the another game.
I like to change games many times when i play at the casino.
Gretta O. - Greenville, South Carolina USA

I play this slot machine at
English Harbour
.
I have had my ups and downs with the birds slot but will always remember the first time i played and i got 4 bonus symbols in a free game.
I won 40 times my bet and 20 more spins and have been playing here since then!
Anne J. - Londonderry, New Hampshire USA

I like the colors on the slot machine but to be honest it is not my favorite game at all.
I play at VIPSlots and play mostly games with a little faster bonus like
Wheel of Chance
.
I think i play this game once in a while because it was the first slot machine with 5 reels i played and the long slow bonus was a great way to learn how this type of game works.
Marry L. - New Castle, Delaware USA

The free spins bonus is really nice but if you want to play this game you must remember that free games is not a guarantie for good prizes.
I played this game and got 3 bonus in a row, 60 free games but still won less than i normally do with 20 free games.
Ron D. - Anaheim, California USA