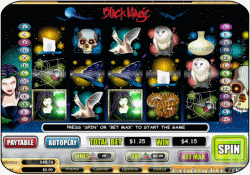 Black Magic
is a USA friendly bonus slotmachine with a jackpot of 6,000.00 and an extremely popular multi-prize bonus feature.
The game has an amazing design that bring players to a dark and mysterious realm of powerful witches.
The slot has many animated symbols that come to live when the reels stop and prizes are paid. The animations are amazing and the background and effect sounds that match the dark theme make this a slotmachine that really keep the player fixed on the screen.
Black Magic is one of the few slotmachines that can be played by players from all over the world, and it is also one of the most popular freeroll slots worldwide.
The game is used for both freeroll and premium tournaments so if you are into free cash prizes this slot is definately worth playing..
Black Magic has 12 different payline symbols and prizes that range from 5 coins to 6,000 coins per payline.
Like most other popular video slots, Black Magic has both wild and scatter symbols that offer players better odds compared to slots that are designed without these.
The Black Magic slotmachine has a decent base-game, but the reason why this slot is so popular is the unique multi-prize bonus feature that players can enjoy.
With 6 guarantied bonus prizes and a chance to win several houndred times the slotmachine wager the simple feature attract players from high rollers to penny spinners.
Black Magic Bonus Trigger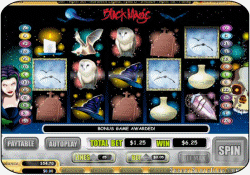 The Black Magic bonus feature is awarded when three or more scatter symbols appear anywhere on the slotmachine reels. Players win a scatter bonus prize and are paid normal payline payouts before the bonus screen with 6 prize areas is shown.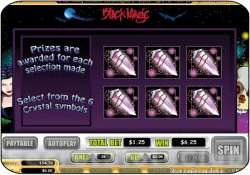 The Black Magic bonus feature is extremely easy to play and is designed so that nothing can be done wrong.
Six identical crystal symbols are shown and must be clicked by the slotmachine player.
The bonus feature is played without timers and will not end before each and every symbol has been clicked.
I even tried to disconnect my internet to see if that made a difference, but the bonus feature was stil ready for me as i left it when i pulled the cable ;)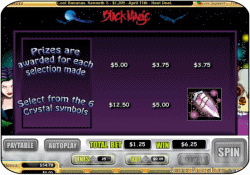 Each time a symbol is clicked, a random cash bonus amount is revealed and added to the players bonus round wins.
The amount can rango from a few times the players bet to several houndred times the slotmachine wager.
The simple and often very rewarding feature is one of the reasons why this slot is extremely popular for freeroll players.
Most slots with a bonus feature guarantie absolutely nothing in terms of bonus prizes and little is more frustrating as a slots player than to trigger the feature you were waiting for and get nothing :/
Completing the Black Magic Feature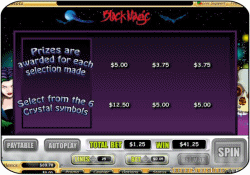 The bonus feature automatically ends about 30 seconds after the last of the 6 crystal symbols has been selected and the last bonus amount is revealed.
The total bonus win is added to the players account before the normal slotmachine spins can be started again.

What others say about the Black Magic Slot Machine:
(Send your comment)

The first time i played this slot machine was at
VIPSlots
when i wanted to see how the slot machine tourneys were.
With 100000 in prizes and nothing to loose it seamed like a good idea!
I won absolutely nothing in the tourney but liked the feeling with this game so much that i play it pretty often now.
Caren M. - Scottsdale, Arizona USA

I have found bonus fields with up to 1,250 in but also as little as 25.
It seams as if the bonus always have 1 or 2 prizes that are significantly higher then the others and 2-3 in the very low end as well.
Most important is that the more you risk the higher values you will see.

Gina S. - Thornton, Colorado USA

I play this slot machine mostly for fun, without real money and then sometimes in tournaments.
I am not a big time gambler and have only made deposts at casinos three times.
I managed to blow all three wagers on fun over a few weekends but a few months ago i won most of it back in a freeroll;)
Pen G. - Orlando, Florida USA

I compete against many of my online friends in the freerolls for fun and sometimes one of us wins the cash prizes...
I never won the 1st prize in a freeroll but i have beaten my friends as few times and also a few small cash prizes.
The most fun has been to post my winning notices on my friends FB walls for all to see ;)
Ann R. - Rochester, Minnesota USA

This game has no free games and big multipliers like i normally enjoy with slot machines.
I wasnt sure about the game to start with and left the game after a few rounds.
I decided to check it again later the same evening and the crystal bonus feature has me comming back quite often.
Ritta H. - Beaverton , Oregon USA

Finding good fantasy slot games for a USA player such as myself was really hard.
I am really glad i ended up checking out
Caribbean Gold casino
where this game can be found along with several other games that really impressed me.
Slot machines are not the same as they were 20 years ago... Now they are fun!
Owen H. - Kearney, Nebraska USA

I spin the slots mostly because i think they are really fun to play and i get hours of entertainment and a chance to win something interesting for the same as i would pay for a good magazine.
I always play with bonus and got 100% to play this game.
It is definately worth playing, the bonus is fun and the overall feeling is very enchanting.
Margret S. - Chattanooga , Tennessee USA

I play at
SuperSlots
,
Millionaires Club
and
VIPSlots
that all have this game in their 5 Reel Bonus game menu.
You can create an account at all casinos and get bonus each place.
Bonus make it possible to play longer or bet higher with the same amount deposited and risked - higher prizes!
Milla E. - Alexandria, Virginia USA

I was used to playing normal slot machines - with three wheels - when i came to
Caribbean Gold
.
The first video slot machines i tried was
Wheel of Chance
because a friend of mine won 4,500 with a fortune bonus there.
It was a little too fast for me but the Black Magic slotmachine was much more me.
Erica D. - Green Bay, Wisconsin USA