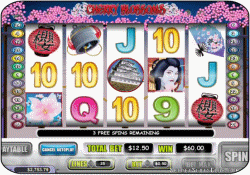 Cherry Blossoms
is a USA friendly bonus slotmachine with a jackpot of 12,500.00 and a tripple payout free spin feature with up to 25 free games.
The slot has a bright, calm and classy oriental theme with a Geisha as substituting wild symbol and a huge Cherry Blossoms (flower from a japenese cherry tree) as scatter bonus symbol.
The game itself is extremely elegant and almost calming despite the fact that any spin could result in payouts of more than 15,000 or huge amounts of free spins with trippled wins.
Cherry Blossoms is one of the last slotmachines i played at SuperSlots, and i have to admit that the game name was the main reason for this.
To be fair, SuperSlots offer a huge selection of my personal favorite slotmachines, but i generally try to spin all of the slots i come across quite fast.
When i finally decided to launch the Cherry Blossoms slotmachine i realized that i had been cheating myself for one of the best free spin slots in the online industry.
The Cherry Blossoms base game has a good setup with 12 different slotmachine symbols including two special symbols and 6 pokermachine symbols.
The two special symbols are the classic and well known scatter and wild that make winning much easier and provide players with a simple way to trigger free spins.
Cherry Blossoms Paytable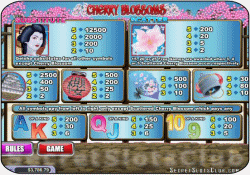 With 25 paylines to bet on, the wild symbol is the key to most decent wins because of its ability to substitute for more than one symbol at the same time. The symbol works like any of the 10 normal symbols whereever it appear and will often result in prizes for paylines that cross in the positions where it appear.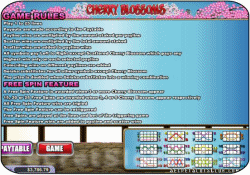 If you are new to video slots then i suggest that you start about by opening the slotmachine rules page that is accessible from the Paytable button that appear on the slotmachine all the time.
The rules page has a simple overview of the different payline paths and explain in detail how the slotmachine works and how prizes are paid out.
If you are familiar with online slots and simply want to know what make this slot tick then the base features are:
Re-triggerable free spins with a 3X multiplier, free spins are awarded with 3, 4 or 5 scatters and award 15, 20 and 25 free games. (3 scatters = 15 free fames, 4 scatters = 20 free games, 5 scatters = 25 free games)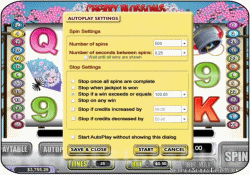 Most new casino players prefer to spin the slot manually by clicking on the spin button each time they want to start the slot.
More experienced players like myself often use autoplay features to control the slotmachine and relax while the game spins.
Cherry Blossoms has a really nice autoplay feature where players can setup everything from stop condition ( for instance, the slotmachine can be setup to stop after a given amount of wins, losses or when a large prize is won.)
Cherry Blossoms Free Spin Feature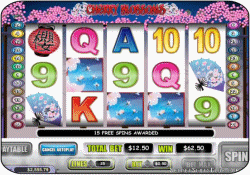 The Cherry Blossoms free spin feature is awarded each time three or more scatter symbols appear on the game reels. The amount of scatter symbols that appear affect the free spin bonus feature by controling the amount of free games won.
The most common bonus feature is triggered with three scatter symbols (as shown in the screenshot above) and results in 15 free rounds that are played with all prizes trippled.

What others say about the Cherry Blossoms Slot Machine:
(Send your comment)

Cherry Blossoms is one of my favorite slots at
VIPSlots
where i play about twice a month..
The game is nice on the eye and really entertaining.
I am not really into the games with close to no chance of winning a billion dollars and really like how the Cherry Blossoms game pays out almost every spin. Of course most spins pay less than they cost but when the free games bonus come it always bring me on top.
Marry M. - Cedar Falls, Iowa USA

I had never deposited at online casinos but have won cash from freerolls a few times and always try a few games before i withdraw.
Cherry Blossoms is one of the games i always end up spinning because i like the symbols and i have left the game with even more than i started with quite a few times.
You win the top prizes with the bonus, you can win ok prizes in normal spins also but bonus prizes are higher and mean even more because they dont cost anything on top.

Anna H. - Jeffersontown, Kentucky USA

I have never played this slot machine for real money because i am new to online casinos. I have played it several times in demo mode for free and think i am getting the hang of it..
I mostly play one arm bandits because i know these so well but this is definately one of the first advanced games i will try with real money.
Elizabeth F. - Monroe, Louisiana USA

You can setup the autoplay even if you are less than an expert with this type of game.
Autoplay is not a casino cheat or extra progam you can use, it is a normal part of the slot machine that is there to help you.
The best thing with autoplay is that you can set it up to stop when you win a good spin so you can go withdraw right away.
Margareth G. - Southaven, Mississippi USA

I have been playing slot machines and roulette at online casinos for many years, especially after my retirement.
Cherry Blossoms is a great game to play, i often set the autopilot with my favorite setup and have the game spinning on my computer while i listen to the radio and do my everyday chors..
Every few minutes i check how the game is doing or sit down with my tea while the bonus game is running.
Minnie L. - Springfield , Missouri USA

Finding good fantasy slot games for a USA player such as myself was really hard.
You can play Cherry Blossoms and about 5 different casinos, I mostly play at
Caribbean Gold
that recently updated with new games. Cherry Blossoms is not my favorite game here but i play i about once a month when I want to play a more casual game with a good flow.
I have won 20 free spins once with 4 bonus symbols but most of the time i get the standard 15 free spin variant.
Emma R. - Mesquite, Navada USA

The best thing i tried with this game was a free game feature where i got 5 bonus symbols on the last of 15 free spins.
Getting scatter bonus in the free spins means three times the prize as well so i won 600 times my bet and 25 additional free games.
I have never seen anything like this with a slot machine before so i keep getting back to this game.
Martha N. - Mount Vernon , New York USA

I like to play this slot machine at
SuperSlots
where i started playing several years ago. This game is like many other slotmachines with free spin bonus and is really only different in the colors and symbols.
I think you should go with whatever game you &feel is lucky& rather than the features and design of the games.
All in all the games all have the same odds and payback ratios so find a lucky game and try something new!
Alica E. - Lancaster, Pennsylvania USA

When i started playing at ,
Millionaires Club
where this game is available it was all about Blackjack and Roulette for me.
I wanted to play something easy that i was familiar with and thought this was they best way for me. I am glad that i went to this slotmachine after being borred at the tables one day, these new type of slotmachines are so much fun compared to the classic games and you can win much higher prizes.
Sarrah D. - Woonsocket , Rhode Island USA