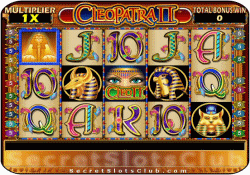 Cleopatra 2
is a 20 win-line Egyptian themed free spin slotmachine with winning multipliers and wild substituting symbols that can be played in a no download flash based browser version.
All fans of slot games worldwide will be familiar with the iconic Cleopatra brand and one of the most popular titles with this theme is the exciting follow up to the original game - Cleopatra 2.
» Play the Cleopatra 2 slotmachine at Sky Vegas and get up to £100 free
The Cleopatra 2 Slotmachine Paytable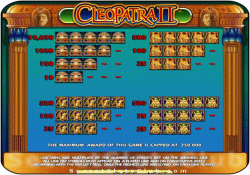 Cleopatra 2 is designed with a paytable that is extremely easy to understand with pages that are split up showing no more than four symbols on each.
Unlike most slot machine paytables, the Cleopatra 2 paytable show five symbols and a value followed by four symbols and a value instead of simply writing a number of symbols and the cash prize that match this amount.
This extremely easy to understand paytable may be overdoing it for experienced slot machine players, but new players will benefit much from this easy paytable help page.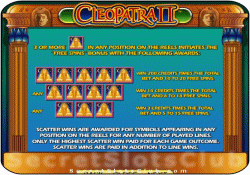 The Cleopatra 2 bonus trigger page is designed similar to the base-game paytable with information about the free spin bonus feature and the amount of spins and scatter prizes awarded with 3, 4 and 5 bonus symbols on the game reels.
Players can win up to 200 times the total slotmachine bet with scatter prizes and up to 20 free spins with increasing multipliers.

Play slot machines with battle bonus features and popular heroes such as Spiderman and the crazy Street Fighters at
Sky Vegas casino
.
New players get up to £100 free.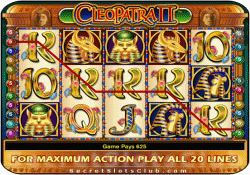 Playing the Cleopatra 2 base-game is really entertaining and the animations and payline prizes triggered after each spin are presented in a simple and classy way with amazing effects that add to the gaming experience.
Each payline that result in a prize is marked with a red line while a text explain how much the player won below the five slot machine reels.
Cleopatra 2 Bonus Feature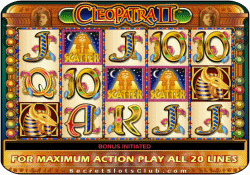 The Cleopatra 2 free spin bonus feature is awarded when 3, 4 or 5 bonus scatter symbols appear anywhere on the slot machine reels.
Players are shown a text message below the game reels with information about the bonus trigger just as all other wins are shown in a text version in addition to the flashy graphical presentations that many prefer.

Play egyptian themed slot machines free spins and bonus features at the no download
Sky Vegas casino
.
New players get up to £100 free.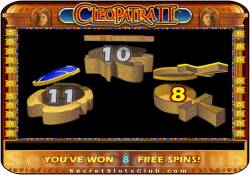 When the Cleopatra 2 slot machine feature is awarded, a bonus screen is shown with different egyptian themed items that can be selected by the player.
Each symbol has a random amount of free spins from 8 to 20 hidden inside that will be revealed when the players has made a bonus pick.
The amount of free spins that can be won scale with the amount of scatter bonus symbols that started the feature.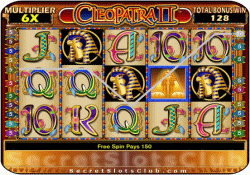 The Cleopatra 2 free spin bonus feature may not sound like anything special so far, but the best part is yet to be revealed...
It is time to talk about the winning multipliers that are applied during the free spins, the amount all wins are multiplied with before paid out.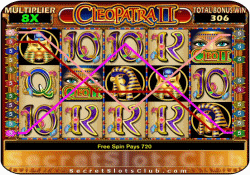 Unlike most free spin slot machines, the Cleopatra 2 slot has a free spin bonus feature with a scaling multiplier.
This means that the amount won is multiplied by an amount that increase with each free spin.
A free spin feature such as the one i won during my first session with Cleopatra 2 resulted in 8 free games.

Play slot machines with battle bonus features and popular heroes such as Spiderman and the crazy Street Fighters at
Sky Vegas casino
.
New players get up to £100 free.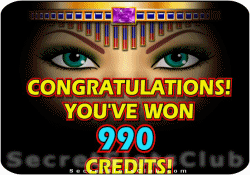 During this bonus feature, the amounts paid out start with a 1X multiplier during the first spin resulting in completely normal prizes.
The second free spin is played with a 2X multiplier, this means that all prizes won during the 2nd free game are paid out double-up.
This continue all the way to the end of the bonus feature where prizes are paid out with an 8X multiplier, - 800% of the normal prize amount.
Players can win up to 50 free spins and a multiplier that scale all the way up to 50X as well. This incredible free spin setup that scale to amounts that no other slot come close to make the Cleopatra 2 slot machine more than worth checking out.
Want more Egyptian Themed slot machines?

The Book of Ra slotmachine has a unique free spin feature with randomly expanding symbols and special bonus payouts.
This 9 payline slot has a retriggerable free spin feature with a truly unique concept.
Book of Ra Slot Machine Review

Cleo Queen of Egypt is a unique slot machine that offer players 9 different progressive jackpots with a simple 9 win-line setup.
Find lucky incons in the bonus feature with multipliers and hunt down each of the nine progressive prizes.
Cleo Queen of Egypt Slot Machine Review