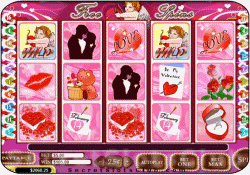 Cupids Arrow
is a USA friendly bonus slotmachine with a jackpot of 10,000.00 with payline combinations and up to 500X with help from scatter bonus prizes.
The slotmachine has an obvious love theme and is extremely popular during Valentines, Christmas, Mothers and Fathers day seassons.
Cupids Arrow has two bonus features that can be triggered individually or together for some really impressive prizes.
Cupids Arrows has a pick a prize bonus feature where players must select presents in a pyrmaid like setup with prizes that increase as the player progress in addition to a re-triggerable free spin feature with all prizes trippled.
If the present bonus is awarded during a free spin, all prizes are trippled!
The Cupids Arrow slot has a setup with 13 unique slotmachine symbols including three special symbols used for bonus features and wild substitution features.
Cupids Arrow Paytable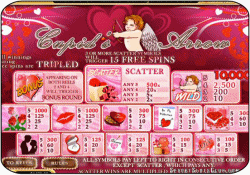 The first thing you should do when you check out the Cupids Arrow slot for the first time is to check the game paytable and rules.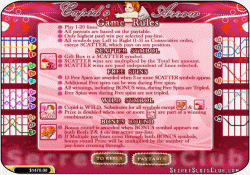 These pages provide information about everything from the payline paths, how symbols need to appear in order to result in payouts, to payout amounts and bonus rules.
The paytable has a simple overview of the different slotmachine symbols with the three special symbols show on the first row, the highest paying symbols on the 2nd row and the most common and lowest paying symbols on the theird row.
When you have familiarized yourself with the basic rules and payouts it is time to spin the reels or setup the autoplay feature.
Most new casino players prefer to spin the slot manually by clicking on the spin button each time they want to start the slot.
More experienced players often use autoplay features to control the slotmachine and relax while the game spins.
The Cupids Arrow autoplay feature can be setup with stop conditions ( the slotmachine can be setup to stop after a given amount of wins, losses or when a large prize is won.) spin amounts and speed.
Cupids Arrow Present Feature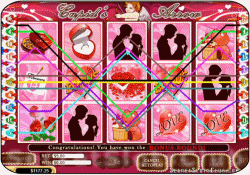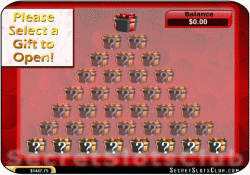 The Cupids Arrow present bonus is is awarded each time one or more active paylines include a bonus symbol on the 2nd and 4th slotmachine reel.
The bonus feature prizes increase with each payline that cross thru the two bonus symbols and is multiplied by the bet placed on each of these paylines.
Once the feature starts, players are presented with a pyramid-like bonus feature where the player must select one of eight possible presents at the bottom of the bonus pyramid.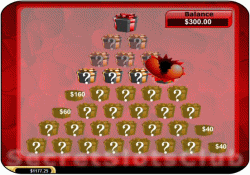 Each bonus present can result in a cash prize or bust the feature resulting in a game over.
The bonus feature is designed with prizes that increase each time the player select a cash reward.
The absolute top prize is found at the top of the pyramid and can result in many houndred times the players wager.
The players bonus feature win are summarized after each bonus present selection and cannot be lost once found.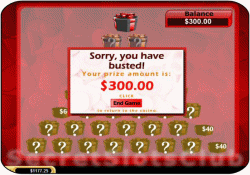 When the player reaches the top of the bonus pyramid or select a bust bonus present the feature ends.
The fact that this bonus feature is triggered by paylines individually means that the chance to win the feature increase with each payline you enable when you play the slot.
With a game such as Cupids Arrow is recommend that you wager less on more paylines and "BET MAN& rather that enable fewer paylines with a larger bet on each.
Obviously this is a personal choice, you should always setup the slotmachines the way you prefer it but if you are new to slots then playing max with low wagers is a good way to start.
Cupids Arrow Free Spin Feature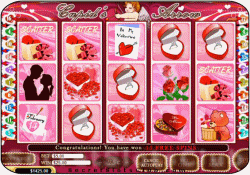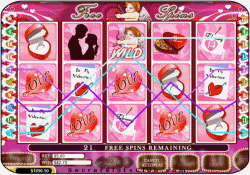 The second feature you can enjoy with the Cupids Arrow slotmachine is a classic styled free spin bonus feature that can be re-triggered.
The feature is awarded each time three or more scatter symbols appear anywhere on the game reels and results in 15 free games that are played with all prizes trippled.
One of the important things to note with the Cupids Arrow free spin feature is that it increase the prizes you can win during the present feature in addition to the normal and scatter payline wins.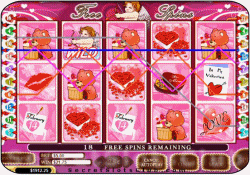 This means that bonus features triggered during free spins will result in prizes equal to what you would see if you trippled your total slotmachine wager.
If you are new to advanced slotmachines, video slot machines with bonus features and 5 reels then be sure to note the Wild Cupid symbol that appear during normal and bonus spins.
This symbol will substitute for all of the normal symbols where it appear and make winning much easier.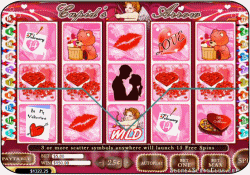 The wild symbol can substitute for different symbols at the same time as shown in the screenshot above where the wild Cupid symbol acts as a teddy-bear and lipstick at the same time. The wild symbol feature results in prize combinations that would be impossible with traditional slots by enabling payouts in crossing paylines.
The wild Cupid symbol can also result in prizes on its own, in fact, the slotmachine will pay out 10,000 times the payline bet if five wild symbols appear on an active payline.
This prize increase to an incredible 30,000 during free spins... 30,000 that is paid out in addition to the other prizes that will be won as an effect of five wild symbols on the slotmachine reels.
What others say about the Cupids Arrow Slot Machine:
(
Send your comment
)

I absolutely love playing Cupids Arrow, it is one of the few slots i play at
VIPSlots
almost on a weekly basis..
The game is easy and the small Cupid figure is so cute...
I have never ever reached the top in the bonus love gift feature but i have reached the 2nd level several times.
The free spins are great but i have never had a bonus round during my free spins, guess i am just lucky in love;)
Isabel A. - Marietta, Georgia USA

I have had quite a bit of luck with this love slot machine, i had a free spin feature that started again three times and also had 4 wild cupid symbols (not during free spins).
I love comming back to this game, it makes me feel happy compared to some of the more action designed games and the prizes are also really good.

Sabrina H. - Evanston, Wyoming USA

I completed the present bonus feature to the first level the first time i played this slot machine, and luckily for me i was betting much more than i would have done without the 100% welcome bonus.
I won more than 2,500 with the feature but havent had much luck with the free spins at all, but i wont complaint too much about that ;)
Mia S. - Bellingham, Washington USA

It doesnt have to cost a fortune to play Cupids Arrow, you can line up the slot machine with a 100% bet on all paylines for a quarter and still win really nice prizes during free spins.
I never bet more than 1-5 cents per payline, this increase to 3-15 cents during the free spins and i figure that if i really get lucky, it will surely be here;).
With a 5 cent bet and 30,000 times that in payouts with a jackpot on that line alone it will still be a 1,500 win.
Molly R. - Arlington, Texas USA

I mostly play the slots when i have time to join a freeroll or one of the large monthly tournaments for a few bucks.
When i do play with deposited money i always play Cupids because its so fun and i would rather look a the cupid angel, sweets and love during spins that i would see a burning truck or some strange action here.
I have ups and downs with it but i think i am in an overall win.
Gabriella L. - Spartanburg , South Carolina USA

After having tried some of the different casinos where i can register, i finally found a place with games i like at
VIPSlots
. One of the games i play quite a lot is Cupids Arrow, it is my favorite free spin slot with good bonus and a cute design..
Leah W. - Camden, New Jersey USA

I started with slots online this year and have been playing bingo online for some time.
I was visiting a girlfriend that told me about this game and we had a few rounds together on her computer.
I wanted to try it at home and it was so easy to install i didnt even have to call my son or ask my hubby, i started with the flash games but the casino program had a good bonus also so i installed it in about 10 minutes.
Cheyenne M. - Wahpeton , North Dakota USA

I mostly play casino at the flash site for
SuperSlots
where you can find a good selection of games like slotmachines and blackjack.
After a few weeks i downloaded the casino and found the Cupids Arrow game that i still play once in a while because of the nice feature, i still need to get the big package on top in the bonus thoug.
Katie B. - Lansing, Michigan USA

I had been playing at,
Millionaires Club Casino
for a while when i wanted to try slot machines instead of video poker and roulette.
I wanted to see if this type of game was something for me and what other slot should i have started with than one with Cupid! I really love the game and the two features in this game are similar to most of the other features in slotmachine so when you have played this game you can play all of them!
Tiffany S. - Brooklyn Park , Minnesota USA