Mega Moolah Summertime
is more than just an average video slotmachine. The Mega Moolah Summertime progressive slot is the theird Microgaming casino game that is part of the linked Mega Moolah progressive pool with
four progressive jackpots
that can be awarded randomly during play.
Nifty Mega Moolah Jackpot Information
:
The Mega Moolah progressive system is designed with a top prize that has a
minimum value of €1,000,000
, a jackpot that has paid out twice during the last 13 months with prizes of
€6,300,000
in May 2009 and
$5,400,000
in April 2008.
The Mega Moolah progressive game is a randomly awarded wheel of fortune game where players can win jackpots with minimum values of $10, $100, $10000 and $1000000.
The Mega Moolah Summertime slot machine is a combination of the
Summertime video slot machine
and the
Mega Moolah progressive slot machine
.
The game is designed with slot machine symbols and features similar to the ones that players have been enjoying for many years with the Summertime pokie and with the life changing jackpot prizes from Mega Moolah.
The Mega Moolah Summertime slot machine has
9 paylines
that players can wager on and a top payline combination prize of 10,000 coins, a prize that like the other non progressive prizes is trippled during the slotmachine free spin bonus feature.
Mega Moolah Summertime - Jackpot Paytables
Mega Moolah Summertime is a slotmachine with everything a player can dream of in terms of entertainment and prize options.
The million dollar prizes are more than nice, but the non progressive prizes also offer some really impressive payouts.
One of the things that make the Mega Moolah Summertime slot really interesting is the fact that it is designed with
two multiplier features
, the wild multiplying symbol and the free spin bonus feature.
Mega Moolah Summertime - Special Symbols
The Mega Moolah Summertime slotmachine is designed with two special symbols, a Wild Multiplying symbols and a Scatter Bonus symbols.

The
Wild Summertime logo symbol make winning easier
and more rewarding during normal and free spins.
The symbol substitute for all non Scatter Bonus symbols on the game reels and double all prizes won where it substitute.
The substitute feature make winning easier on an overall basis, but it also add to the game fun. This is because players will win on multiple paylines much more often than with slot machines that dont offer a wild symbol.

The
Scattered Summertime Logo symbol
is both a
free spin bonus
feature trigger symbol and an instant cash bonus symbol.
The scatter symbol is unlike any of the other slot machine symbols because it can result in huge prizes without appearing on an active payline in order from left to right.
The power of the Scatter symbol kicks in as soon as two of more appear anywhere on the game reels. Players are instantly rewarded with a cash scatter bonus prize from 2 times the total slot machine wager with 2 symbols scaling
up to 500 times the total slot machine wager
with five symbols on the slotmachine reels.
Free Slotmachine Spins
The most important feature attached to the Summertime scatter symbol is the free spin feature trigger that is enabled each time three or more Scatter symbols appear anywhere on the slotmachine reels. Each time this happens, players are awarded
15 free slot machine spins
that are played with
all prizes trippled
.
This means that the slot machine payline jackpot increase to 30,000 times the triggering bet and that a feature re-trigger with five scatter symbols will
pay out 1,500 times the total slot machine bet
.
The free spin bonus feature make it possible for players to win some extreme prizes, - without the progressive prizes in mind.
The fact that all prizes are trippled is really great, but if you add the wild multiplying Summertime logo symbol to the mix you can enjoy prizes that are
6 times larger than the base payout
, - prizes that are won with no cost during free spins!
Mega Moolah Summertime - Normal Payouts and Symbols
Mega Moolah Summertime - Testing the game
I was playing at
River Belle online casino
where i made a $100 deposit for testing of the new microgames. I started out by playing the Your Lucky Day slots where i managed to enjoy each of the three slotmachine bonus features, in fact i had 6 bonus features in total.
Lady Luck was shining somewhere else during the testdrive of the
Your Lucky Day
slots, so i decided to move in her line of sight with a $52.60 casino balance when i started the Mega Moolah Summertime progressive slot machine.
I setup the Mega Moolah Summertime slots with a five coins valued at $0.02 on each of the nine slotmachine paylines and had a cost per spin of $0.90 ~ $0.10 on each payline.
I really like the Mega Moolah Summertime design and was able to enjoy it for 86 spins before the first of several free spin bonus features were landed.

Mega Moolah Summertime - Free Spin Bonus Feature
I was lucky enough to catch a total of four free spin bonus features with the Mega Moolah Summertime slot machine during my first session. I won from 2190 coins to 1005 coins during the bonus features that kept my (and my balance) relatively safe during the entire online casino session.
After about 15 minutes of quick spins, things started to look a little "down", my casino balance had dropped much below what i felt nice about and a few decent spins here and there kept the wheels running with my original wager.
After a total of 20 minutes of spinning slotmachine reels it finally happened... The one thing everybody that play one of the three Mega Moolah games hope for all the time... It happened!
Mega Moolah Progressive Wheel fo Fortune Game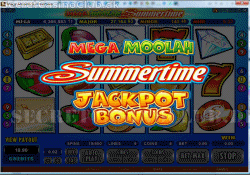 I was down to a casino balance of $18.90 when the one thing i had been hoping for happened, the progressive Mega Moolah Wheel of Fortune game was awarded (this happens randombly during play).
This was my chance to win not just the big bucks that we all dream about, but also my chance to leave the casino with a profit.
After a minute where i was holding my breath, the Mega Moolah progressive wheel stopped on the Minor Jackpot, a jackpot that resulted in a $177.07 progressive win.
I left the casino with almost double what i deposited, - very happy with the first of the two games that i tested!