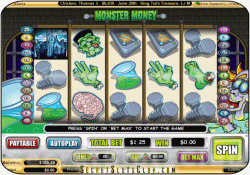 The
Monster Money slotmachine
has everything a crazy scientist would want in his workshop.
With slotmachine symbols such as body parts, nuts, electrodes and even brains, the Monster Money slot has an amusing Frankenstein story-line theme. The slot has 24 paylines, a great bonus feature and a jackpot of 5,000 times players payline bet.
The Monster Money slotmachine was released during July 2009, and it is powered by the Vegas Technology casino software.

All players from U.S.A can play this game
for fun or with real money.
» Play the Monster Money slotmachine at Caribbean Gold for free or with real money
The Monster Money slot has an easy setup that make it ideal for new video slot players that want to experience the excitement and entertainment of the new-age pokies.
With a configureable bet site that can scale from as little as $0.01 and up to $250.00, the game is suited for all players.
Players at
Caribbean Gold
can take advantage of a 100% deposit on each of their first 4 deposits, - up to $1,000.00 in deposits as a welcome promotions.
The Monster Money Slotmachine Paytable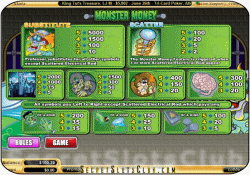 The Monster Money video slot is has 12 different payline symbols that can appear during play.
The paytable can be accessed with a single click via the PAYTABLE button that is shown at the bottom of the slotmachine at all times.
The Monster Money special symbols, the substituting crazy scientist and the bonus awarding scatter electrical rod are shown on the first row with details about the bonus feature start and the substitution effect of the wild Scientist symbol.
The 10 normal Monster Money symbols are divided into two rows with the highest paying symbols on the topmost row.
The Monster Money video slot is also available at
VIP Slots
where players can enjoy daily slotmachine freerolls, weekly bonus promotions and three 100% deposit promotions.
The Monster Money Bonus Feature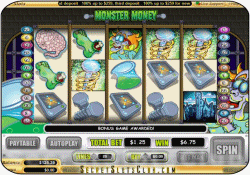 My favorite part of slotmachine gaming has always been the bonus features that result in the best cash prizes and the best entertainment.
The Monster Money bonus feature is no different, the prizes up for grabs are really impressive and the interactive feature is exciting and well designed.
The Monster Money bonus is awarded when the Electrical Rod scatter symbol appear atleast three times on the slotmachine after a spin.
The scattered Electrical rods can appear anywhere on the slotmachine and will launch the bonus even for players that play with less than 25 paylines per spin.
Millionaire Casino
that is the casino of choice for highrollers feature Monster Money slotmachine and offer players an amazing $5,000.00 in welcome bonus promotions!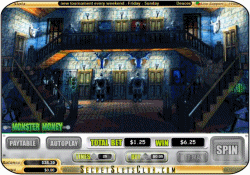 Monster Money Doors and Bonus Prizes
When the Monster Money feature start, players are shown a spooky room with eight dors that can be clicked.
Players must select five of the eight doors one at a time by clicking on them with the moust.
Each door has a random cash prize that can reach many houndred times the total bet so find a lucky door and click on it!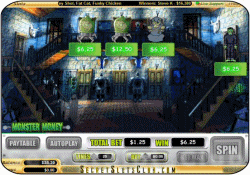 The cash prizes won during the Monster Money slotmachine feature are random and can scale from a few times the total bet to more than 100X.
Some features will result in huge prizes while others will result in lower prizes, this depends on the players luck with the selection of the doors and the slotmachine prizes up for grabs!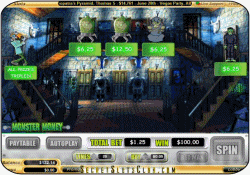 Monster Money Bonus Trippling
Besides the different cash prizes that can be won with each door, the Monster Money feature has a special character that can be found during each bonus feature that really make the feature interesting.
A lucky selection will reveal the crazy scientist that tripple all wins during the Monster Money bonus!

Want more Spooky Halloween Slots ?

Name:
Black Magic
Features:
Pick a Prize Multipliers Wild Scatter
Software:
Vegas Technology
The USA friendly Black Magic slotmachine is a popular freeroll slots used for many of the large international tournaments. The slot has a 6K jackpot and a bonus feature with 6 guarantied prizes.
Twin Samurai Slotmachine Review

Name:
Halloweenies
Features:
Free Spin Multipliers Wild
Software:
Microgaming
Halloweenies is a very entertaining and rewarding slot machine themed with everything Halloween. This slot machine has a scary array of prizes and features such as 13 free spins with all prizes trippled, "pick a pumpkin" cash and up to 13,000!
Halloweenies Slotmachine Review

Name:
Franken Cash
Features:
Free Spin Pick a Prize Multipliers
Software:
Microgaming
Franken Cash is a simple and yet extremely entertaining bonus slot machine. Try the electrifying Franken Cash feature and win free spins or instant cash prizes when you shock the Frankenstein monster. Franken cash is a non wild slot with 20 paylines and scatter bonus symbols.
Franken Cash Slotmachine Review

Name:
Monster Mania
Features:
Multipliers Wild
Software:
Microgaming
Monster Mania is a a monster themed video slot with a nine coin max bet and a 1,000 coin jackpot. Without advanced features, but with both Wild and Scatter symbols in addition to the regular payline symbols Monster Mania is an ideal pick for new casino players.
Monster Mania Slotmachine Review