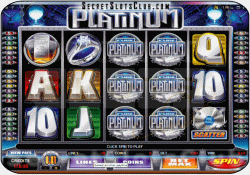 Pure Platinum
is one of the popular slot machine giants, a massive slots game that offer players up to 50 free spins and up to 500% wins.
The slots giant is designed with no less than 40 paylines and include stacked wild symbols on all reels that are available during all spins.
Pure Platinum was released during October 2009.
Popular Casinos where you can play Pure Platinum:
€1000 Free Play - Lucky Nugget, Free Spins - Gaming Club, Jackpot City, River Belle
I have seen an played more than a thousand different slots games online, and the Pure Platinum slot machine was one of the games had been waiting to try for a long time.
The early news and rumors about the Pure Platinum slot machine reached me almost a month before the game was available giving me more than enough time to practice my slot machine strategies with some of the other slot machine giants such as the September 2009 release
Silver Fang
.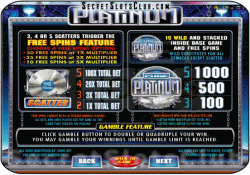 The features that make Pure Platinum more interesting than most other free spin slots games is the combination of the stacked wild symbols that make winning extremely easy and the free spin feature where players can select a combination of free spins and multipliers that match their prefered playing style.
Both features are explained in details on the slot machine paytable that is shown when you click on the "Paytable" button that is available during normal spins on the slots game.
» Pure Platinum was release at The Gaming Club during October 2009
» More Free Spin Slot machines
Pure Platinum - Free Spins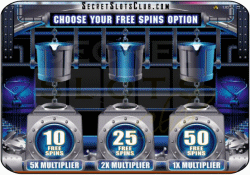 The Pure Platinum free spin feature is an upgrade of the bonus feature that many experienced players know from the popular Loaded slot machine that is used for both premium and freeroll tournaments in addition to normal cash play.
Players can freely select between the three different free spin bonus types and enjoy:
10 Free Games with a 5X multiplier
25 Free Games with a 2X multiplier
50 Free Games with a 1Z multiplier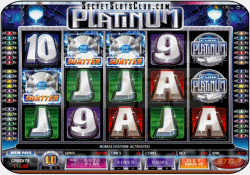 The free spin bonus feature that many players will be spinning to see with the Pure Platinum online casino
slot machine
is awarded when three or more scatter bonus symbols appear anywhere on the five reels.
The slot machine pays out a scatter bonus prize before the free spins with multipliers selection screen is show to the player.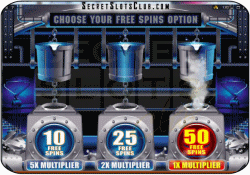 As you can see the Pure Platinum free spin selection screen offer players three different bonus games.
You select the free spin type you want to play by clicking on the bucket with liquid platinum or the platinum mold.
Once clicked the selection is final and the free spin bonus feature is started.
I personally enjoy free spin bonus features more than any other slot machine bonus type and decided to try out the 50 free spins with a 1 X multiplier the first time i triggered the bonus game.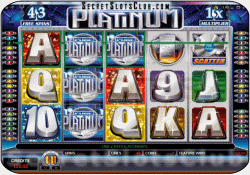 With most free spin bonus features, a 1X multiplier for a large amount of free spins result in a decent spread of wins with low payouts.
Most slot machine players know that many spins in a row can come with little to no wins at all so a high amount of free games greatly increase the chance of winning something with the bonus feature.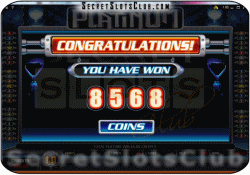 Pure Platinum stand out from the crowd here because of the stacked bonus symbols. Where most slots games with a high amount of free spins generally result in low prizes, i was extremely impressed with the payouts during the 50 free spins with 40 enabled paylines and loads of stacked wild symbols.
I managed to round up 8,568 coins during the first free spin feature, a decent prize but nothing compared to what i won with the slots game later on.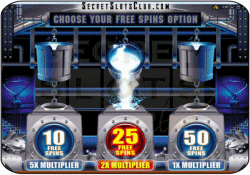 When i started the Pure Platinum slots i decided right away that i wanted to try each of the free spin features atleast once.
When the feature triggered again i went for 25 free games with all prizes doubled.
I must be honest and say that selecting the 10 free games option seamed a little too risky for my taste but as you will see later on i did extremely well with this free spin type as well ;)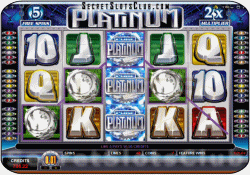 The 25 free spins with all prizes doubled feature was not going too well from start, in fact i was starting to regret not going with the 50 free spins when some really nice rounds came in a row.
I won some spins with fully stacked reels and high-end payouts just as the one you can see on the slot machine screenshot here.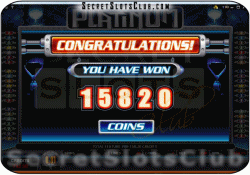 In less than 20 seconds, the Pure Platinum free spin bonus feature that seamed dissapointing changed into a payout machine that just kept throwing cash at me like crazy.
When the last free spin was completed i ended up with a total free spin win of 15,820 coins, - almost double the amount i won with the 50 free spins with a 1X multiplier.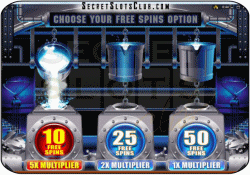 I decided to keep rolling the reels after completing two of the three free spin bonus games with the Pure Platinum slot machine.
When the free spin bonus feature triggered once more i have to admit that i spent a few minutes considering the pros and cons with each bonus feature before making my selection.
I really wanted to have a go with the 10 free spins bonus feature with all prizes multiplied by 5, but then again i consider myself a safe player and the chances of winning greatly increase with each additional free spin.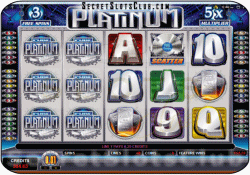 I ended up selecting the 10 free spins bonus feature with a 5X multiplier because of the impressive result i saw from the 25 free spin bonus feature with all prizes doubled.
One of the things i would like to see changed with some of the Microgaming powered slot machines is the spins speed during free games. With just 10 free spins rolling at lights speed i felt as if my chances of winning decent prices were rushing away from me at a very fast speed.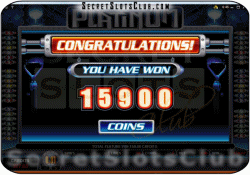 Suddently the reels stopped spinning and everything started to blink and animate while the win counter went crazy. Two rows of stacked wild symbols landed from left to right, - and even though no paylines were triggered with more than three symbols this was still a full 40 payline payout spin, - with all prizes multiplied by 5.
I let the winning counter tick up slowly as i followed the winning descriptions and ended the free spin bonus shortly after with the largest payout so far, - 15,900 coins ;)
Pure Platinum Autoplay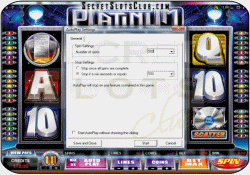 Most of the video slots games at the Microgaming powered online casinos such as
Lucky Nugget
(that offer new players a €1,000
free play
) have autoplay features that can be setup to control the basics of the slots games.
If you want to play Pure Platinum with Autoplay, click on the Expert button below the game reels and then on the Autoplay button.
The Autoplay feature can be setup to manage the slots game for a givent amount of spins and to stop when a large prize is won. The main purpose of the Autoplay feature is to provide players with a chance to sit back and enjoy the show while the game plays and to make sure that the slot machine stop when a prize is won that players want to withdraw.
Pure Platinum Top Wins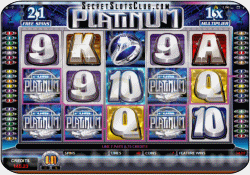 I started playing the Pure Platinum slots game at one of my favorite real Cash
online casinos
, the 100% welcome bonus cash casino
River Belle
.
I managed to trigger all of the slots features several times and even landed some of the absolute top prizes that can be won with slot many times as well.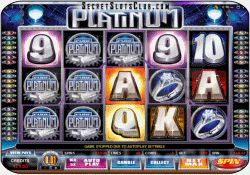 Most of the perfect payline symbol combination wins i enjoyed were with help from the stacked Pure Platinum logo wild symbols that make winning insanely easy.
I played with all 40 paylines active and even managed to get a spins with two and three perfect payline combination prizes during a free spin feature where the prizes were increased.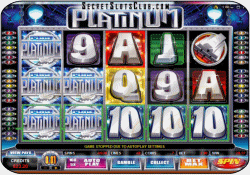 If you want to try the new Pure Platinum slots game i strongly recommend that you visit
The Gaming Club
or one of the other popular Microgaming casinos and try the game there.
The slots game is available at most popular Mirogaming casinos but if you head on over to
The Gaming Club
casino you can take advantage of 20 free spins on the Avalon slot machine in addition to their 100% bonus on your first deposit!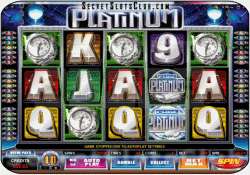 Be sure to BET MAX so you enable each of the 20
paylines
and ensure maximum wins during both the base game and the two bonus features.
Never deposit more than you can afford to loose.
Be sure to read up on the promotional rules for any casino before you make a deposit, - some casinos have really nasty wager requirements that make it hard to withdraw if you play with a deposit bonus.