Summer Holiday
is not your regular slot machine with a few paylines, wild symbols and a bonus feature, Summer Holiday is a massively packed entertainment game with a whopping
100 paylines
,
stacked wild symbols
and a
cool bonus feature
that players can opt to replay or trade for mystery prizes.
The Summer Holiday slots has a
top payout of 2,250,000
coins, two and a quarter million coins that can be won with a max bet on this wild slot.
If you are new to
slotmachines
then the Summer Holiday giant is probably not the first game you should take on. While the massive amount of paylines is configureable (you can play with any amount from 1 to 100 paylines), the best results are often achieved with max bet spins.
100 paylines means 100 chances to win each spin, but it also means that your casino balance will drop extremely fast in periods of bad luck.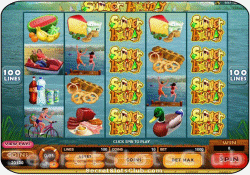 The Summer Holiday slot machine is designed with stacked wil symbols.

This basically means that lucky spins will land several wild symbols on top of each other (as shown on the screenshot) for greatly increased chances of winning.

The stacked wild symbol feature where entire reels can turn wild is one of the things that make the Summer Holiday slot fun to play.


When you see the reels spinning and the chunks of wilds appear, it is time to cross your fingers and hope that they stop as fast as possible for extremely big prizes.

With a 750 coin payout for 5 wilds on a payline, a lucky spin can result in 75,000 coins with a single coin bet on each payline and as much as 750,000 coins with a max bet spin.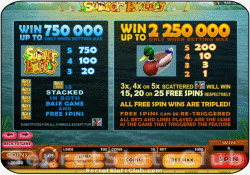 With 100 paylines and 12 different slot machine symbols getting a good idea about what you can win with the Summer Holiday slots can be a little tricky, especially when you add the stacked wilds feature.
The most important thing to keep in mind in terms of the Summer Holiday slot machine payouts is that the game is designed with the same high overall payouts as all of the other Microgaming slotmachines.
This means that any setup with the slotmachine, any amount of paylines with any coins amount and denomination will result in the same relatively high odds of winning.
With a
max payout of 2,250,000 coins
and another top payout of 750,000 coins during the base game one thing is sure, the Summer Holiday slot has a huge payout potential.
All of the Summer Holiday payouts can be found via the slotmachine paytable or from the Summer Holiday screenshots here at Secret Slots Club.


What others say about the Summer Holiday Slot Machine:
Summer Holiday Free Spin Bonus Feature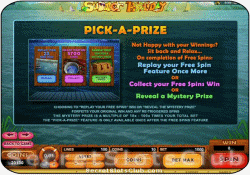 Look out for the scattered duck symbol, because 3, 4 or 5 can trigger 15, 20 or 25 re-triggerable Free Spins.

During free spins (slotmachine game rounds that are played at no cost) all wins are trebled, and if the player is unhappy at the end of the Free Spin cycle, a cool Pick-A-Prize feature offers a choice of three alternatives:

Replay the Free Spins (putting at risk any wins or re-triggers earned in the bonus feature)
Opt instead to receive a mystery multiplier prize, win anything from 10 times the total slotmachine bet right up to 100x
Cash out and stay with your winnings! 
The Pick a Prize feature is one of the key elements in this slot.

Most experienced players know how frustrating it is to trigger a bonus feature and complete it with little to no winnings at all.

In most cases, the slotmachine bonus features end the players sessions because the big bucks are won here making the casino cashier the next logical step!

With the Summer Holiday free spin feature bad bonus results are much less likely to occur because players can re-try the feature if the original winnings were too sparse.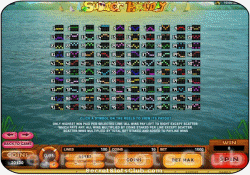 The 100 slotmachine paylines
If you want to see how 100 paylines appear on the slotmachine reels (without trying the game) then be sure to checkout this Summer Holiday screenshot.
The screenshot show each and every possible payline path from the Summer Holiday slotmachine.