The Sub-Mariner - Marvel Jackpot Progressive Multi Bonus Slot Machine

It has been a while since this popular game was released at the worlds oldest and most respected online casino -
InterCasino
, but The Sub-Mariner is still one of my personal favorites when it comes to progressive bonus slot machines. Hands down, The Sub-Mariner just has so much to offer from a unique gameplay and cool features to top-end entertainment.
The Sub-Mariner has two bonus features and three jackpots to be won!
» You can play the The Sub-Mariner slotmachine at InterCasino
The Sub-Mariner - Massive Wilds Bonus Game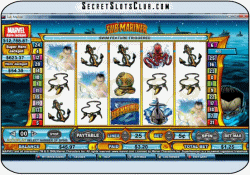 The bonus game that i seam to win the most when i play the
Marvel slot machine
- The Sub-Mariner is the Massive Wilds bonus game that can be triggered after any slot machine spin.
The bonus game start automatically after any spin where the wild substituting The-Submariner symbol appear anywhere on the 1st and 5th game reel.
Normal game wins are paid before the bonus game is played.
»
Create a free InterCasino account and play The Sub-Mariner now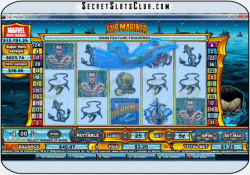 When the bonus feature activate, the slot machine reels fade into a slight blue as the Sub-Mariner swim by each symbol that is shown.
The Sub-Mariner start at the top left symbol and may convert some of the symbols he swims by into wild substituting symbols.
The payout potential with this bonus feature is extreme, but unfortunately some of the features end with no extra wild symbols.

Play slot machines with battle bonus features and popular heroes at
Sky Vegas casino
.
New players get up to £100 free.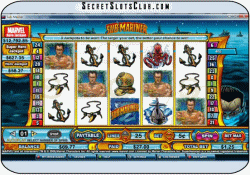 Most of the Massive Wild bonus features with The Sub-Mariner result in greatly increased payouts.
I have had many spins similar to the one shown here that end up with perfect payline combinations after the extra wilds and the payout difference is hard to miss!
When i see this bonus feature, i always hope to end up with 5 wild symbols on a payline, but even though i have been playing this game for more than a year, i have never completed this feature with more than 4 wilds on an active payline (but this resulted in crazy payouts as well!).
»
Create a free InterCasino account and play The Sub-Mariner now
The Sub-Mariner Multi-Bonus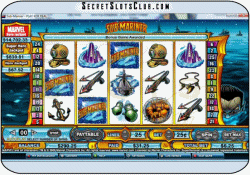 The second bonus game that can be won with The Sub-Mariner
slot machine
is a multi bonus that can result in instant cash prizes and free slot machine spins.
The bonus game is started when three or more scattered Sub-Mariner logo symbols appear from left to right on the slot machine reels.
Players win a scatter bonus prize and normal spin wins in addition to the bonus game.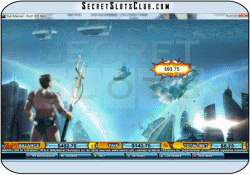 During this bonus game, players must sink enemy ships or submarines in a bonus scene to win cash prizes and free games.
Players are always awarded three bonus selections, each capable of rewarding the player with 5 free games or a cash amount that seam to range from 3 times the total slot machine bet to 100 times the total slot machine bet.
»
Create a free InterCasino account and play The Sub-Mariner now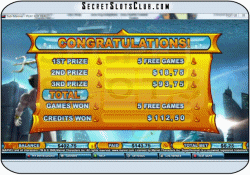 The bonus game automatically end when the theird ship or sub has been taken down and is wrapped up with a nice feature win summary screen.
Here you can see exactly what you won in the bonus game per selection and in total.
If you won free games during the bonus round, the free spins will be played instantly when the congratulations screen fade away.

Play a popular slot machines with aliens in all shapes and sizes at the no download flash casino
Sky Vegas
. New players get up to £100 free.
»
Create a free InterCasino account and play The Sub-Mariner now
Marvel Progressive Jackpot Slots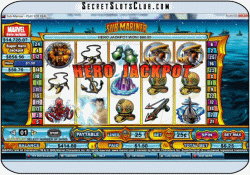 The Sub-Mariner is one of the online casino games that really has the full package. The base-game is extremely entertaining and the double-feature setup that allow players to win everything from free games to instant cash prizes and extra wilds provide a gaming system with frequent spins that result in good wins.
Any regular slot machine player know that long periods can occur with no bonus features, this is true for The Sub-Mariner as well.
Where many popular bonus slot machines leave the players in a waiting position here with somewhat borring spins, The Sub-Mariner has the cool
Marvel Jackpot system
that make every spin interesting.
As it is the case with all of the Marvel slot machine games, The Sub-Mariner has three progressive jackpot prizes that are awarded randomly during play. This means that you can win one of the progressive prizes after any spin regardless of the symbol positions and the appearance of special bonus symbols.
While it is completely impossible to give any guarantee in regards to the frequency of these jackpots, i can say that the average amount of spins per jackpot has been 233 for me.
This is based on gaming data that has been collected for more than a year, - more than 10,000 spins on The Sub-Mariner alone!
»
Create a free InterCasino account and play The Sub-Mariner now
Good Spins with The Sub-Mariner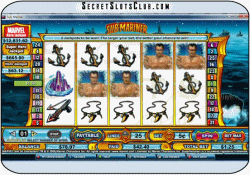 I was really amazed by the huge amount of good win spins i have saved during the last year or so with the Marvel Progressive jackpot game The Sub-Mariner.
I ended out selecting a line of screenshots from a game session i had during December 2009 (in fact, just two days before writing this game review) where i was playing The Sub-Mariner at InterCasino.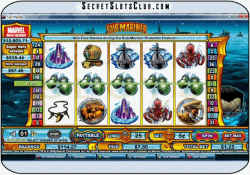 I was playing at the $USD version of the
online casino
with 25 active paylines and a total bet per spin of $6.25.
I started playing The Sub-Mariner with a $400 casino balance that had a really shaky start.
During the first 100 or so spins, my balance dropped down to just below $100 before the first of many really interesting spins landed in a short period of time.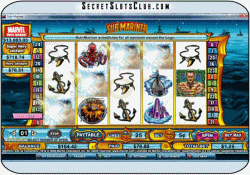 The Sub-Mariner is one of the Marvel Progressive slots that i enjoy several times per month, it is probably one of my most played favorite slots that i often end up playing even if i was just checking out a newly released game.
So when i read that InterCasino was hosting a draw where 20 players would win $2,000 each, - and one of the ways to qualify for the draw was by winning any Marvel Jackpot...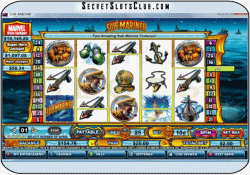 The Sub-Mariner was appeared on my screen very fast! While the progressive jackpot landed quite fast (the screenshot was added earlier in this review) the more interesting spins and bonus wins came about 15 minutes later.
Lady Luck had me waiting for quite some time, but when she finally decided to drop by, she came in full force.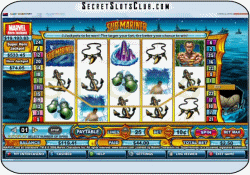 During less than 30 minutes, i managed to see 18 spins with atleast one perfect payline combination, - that is a spin with five identical symbols on an active payline.
I also triggered both of the Sub-Mariner bonus games 3 times AND won two Hero Jackpots in between the bonus features.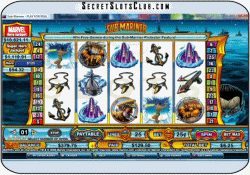 This by itself was really impressive, but when i had a spin with four scatter symbols and a great bonus feature followed by a spin with 4 wild Sub-Mariner symbols things started to change bigtime.
Within minutes my casino balance was back at $400 and i was really close to calling it a day and stopping while i was at a break even stage.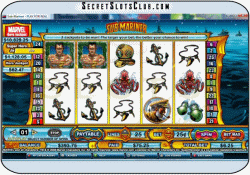 I think that on any other day, i would have stopped at this point.
I generally always leave an online casino when i win back after a huge down in my balance, but the winning streak i experienced had me looking for more.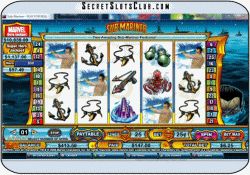 It too less than 10 spins on The Sub-Mariner before my balanced increased by $125 when one of the better perfect payline combinations landed after a few spins with no wins what so ever.
I noticed that my balance had increased to a little more than $500, and instantly started my incremental profit strategy to be sure that i would leave the casino without loosing any of my deposited funds.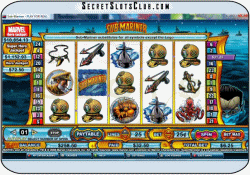 Whenever i am playing a bonus slot machine such as the Marvel Progressive slots games, and i have a $25 profit or more i set a minimum balance that i MUST leave the casino with.
In this case, i decided that i would withdraw when my balance reached $450 and continously increase this amount by $25 each time my casino balance increased by $50.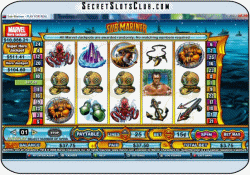 This strategy is basically an insurance and reminder for myself that is enforce each time i get lucky at the casinos.
When i started playing casino games online, I often ended up leaving the casino with nothing, - even though i had a very decent profit at some point.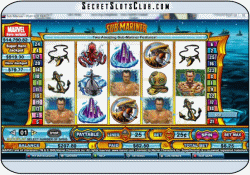 My slot machine strategy allow my to have fun with the game, provide me with a window where i can win even more while making sure that i never throw away too much of the money that i have won so far.
With a $50 profit to be lost at max to start with and no more than $75 in profit to be lost ever in total i have never left a casino with a bad feeling of loosing too much of my winnings or both my winnings and my deposit.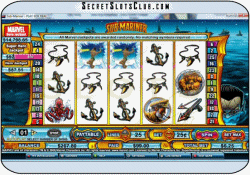 During this particular slot machine session, things were moving back and foth for a few minutes before another batch of very nice slot machine spins landed.
My casino balance (that had decreased to $468) increased to $550 when another really nice spin landed with a perfect combination, and the spins that followed were even more impressive.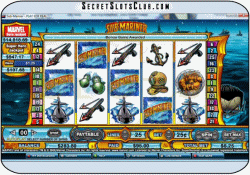 After just a few slot machine spins, my casino balance had increased from $468 to $700 and i was seriously thinking about stopping for the day with this balance instead of playing more.
I decided to grab a maximum of 50 additional spins on the slot machine by using the Auto-play feature before leaving the casino with a very nice profit.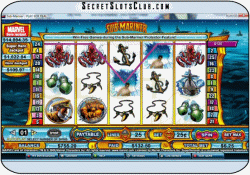 After about 20 of the auto-play spins, my casino balance had increased to $856, and when 5 spins in a row appeared without as much as a single cent in payouts i took it as my sign to stop for the night.
I qualified for the $2,000 draw and was leaving the online casino with a little more than double my deposit after a very exciting time with The Sub-Mariner slot machine.